We know gardening isn't always the green hobby it should be, so at Millbrook we are constantly looking for ways to be more sustainable – from the products we stock, to generating our own solar energy. If you have visited either of our centres recently, you may have come across our Eco House. This in-store display highlights some of the Planet Positive steps we are taking as a company, alongside 10 easy ideas to inspire you to become greener gardeners at home.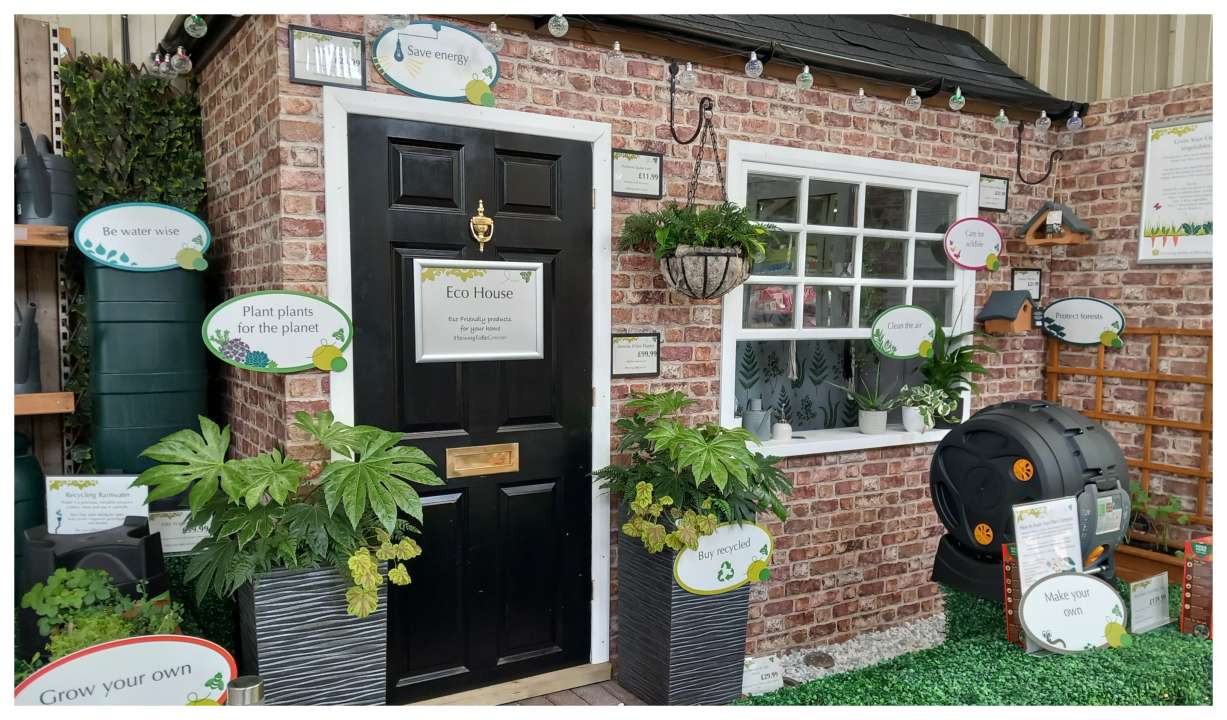 Plant, Plant, Plant!
Trees, shrubs and plants are known for their ability to neutralise CO2 and air pollution, but they also play an important role in creating a haven for wildlife, so the more plants the better!
Choose a range of pollinator-friendly plants that flower at different times of the year.
Buy locally-grown, or native plants where possible.
Garden with what you have! Choose the right plants for the right place – shady plants for shaded areas, more resilient varieties for drier areas of your garden.
Plant a green roof on your shed – sebums and alpines work really well.
Be Water wise
At Millbrook, we use recycled rainwater to keep our plants happy! Increasingly, climate change has seen soaring temperatures in the Summer months, and wetter Winters, so harvesting rainwater now could help with drought later on, and save you money on water bills too.
Store rainwater. Buy a water butt and attach it to your downpipes. It's estimated that on average around 24,000 litres of water per household could be saved this way!
If you don't have space to store water, use 'grey water' – water from baths, showers and washing up – to water the plants in your garden.
If too much water is an issue, turn a waterlogged area into a bog garden or small wildlife pond. Read more water wise ideas in our Rain Garden blog.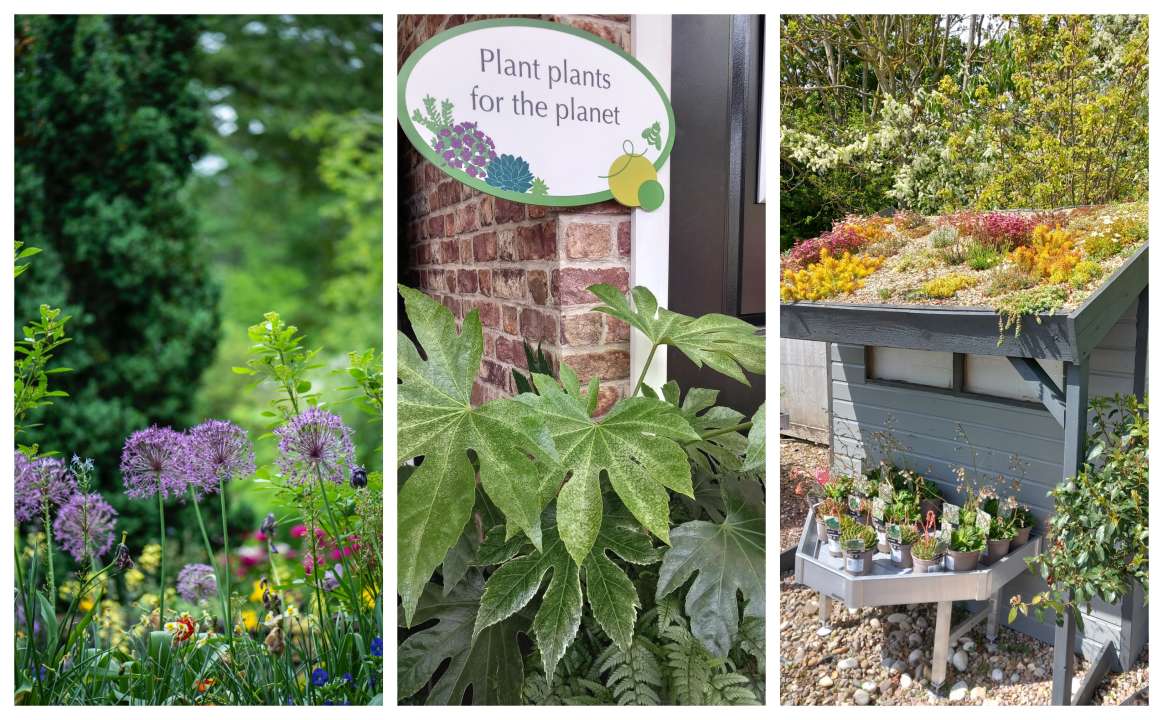 Go Peat-free
This Spring, Millbrook went peat-free across all our bagged composts, ahead of the Government target of 2024!
Peat bogs are an increasingly rare habitat in the UK and across Europe. Home to many unique fauna, flora and wildlife, they are also important for flood control and storing carbon, so destroying them to make compost directly contributes to climate change.
The good news is lots of peat-free composts now perform as well as traditional kinds, so making the switch is an easy win for your garden and the planet.
Grow Your Own
No matter how small your outdoor space is, growing your own food helps the environment by cutting down on food and plastic waste. Your fruit and vegetables will be more nutrient-rich and pesticide-free too!
Use eco-friendly pest control products (we have lots in-store!) or try companion planting. Some of our customers swear by used coffee granules as a natural barrier to slugs and snails!
Embrace small space growing – in recycled containers, pots, planters and baskets.
Use a planet-friendly mulch, like Strulch, on your fruit and veg to maintain moisture in your soil.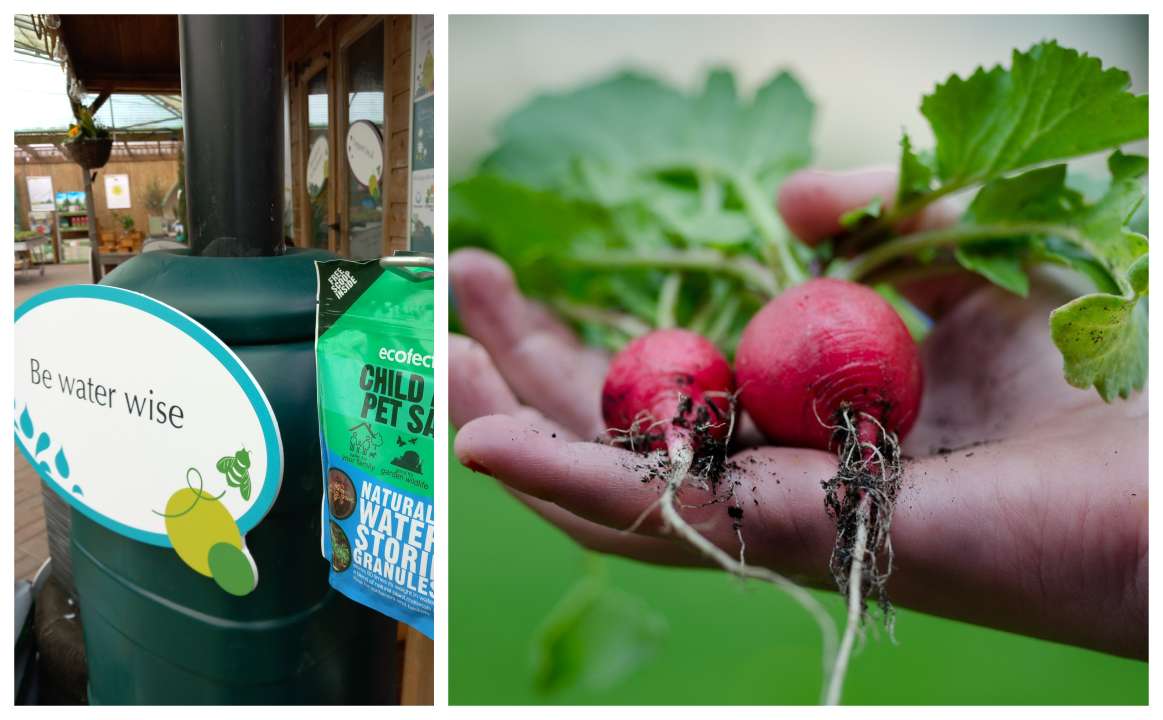 Save energy
Currently 20% of the electricity we use at our Gravesend centre is produced by solar panels, and we are working on installing more at both Millbrook centres. Switching to solar-powered lights in your own garden is an easy way to save energy and money.
Solar lights are reliable, need little maintenance and many types are portable so you can move them around your garden. Most switch off and on automatically too, so no energy is wasted by leaving the lights on accidentally!
Buy recycled
Lots of our outdoor plants are sold in recycled and recyclable plastic pots, and we stock some great recycled products for the home too! One of our favourite Eco House products are these award-winning pots from Primeur. They are made entirely from old rubber tyres, which also makes them virtually indestructible, as well as stylish.
Don't forget, when you are finished with your plastic pots, take them to a recycling centre, or pop them in our designated bins at Millbrook and we will recycle them for you.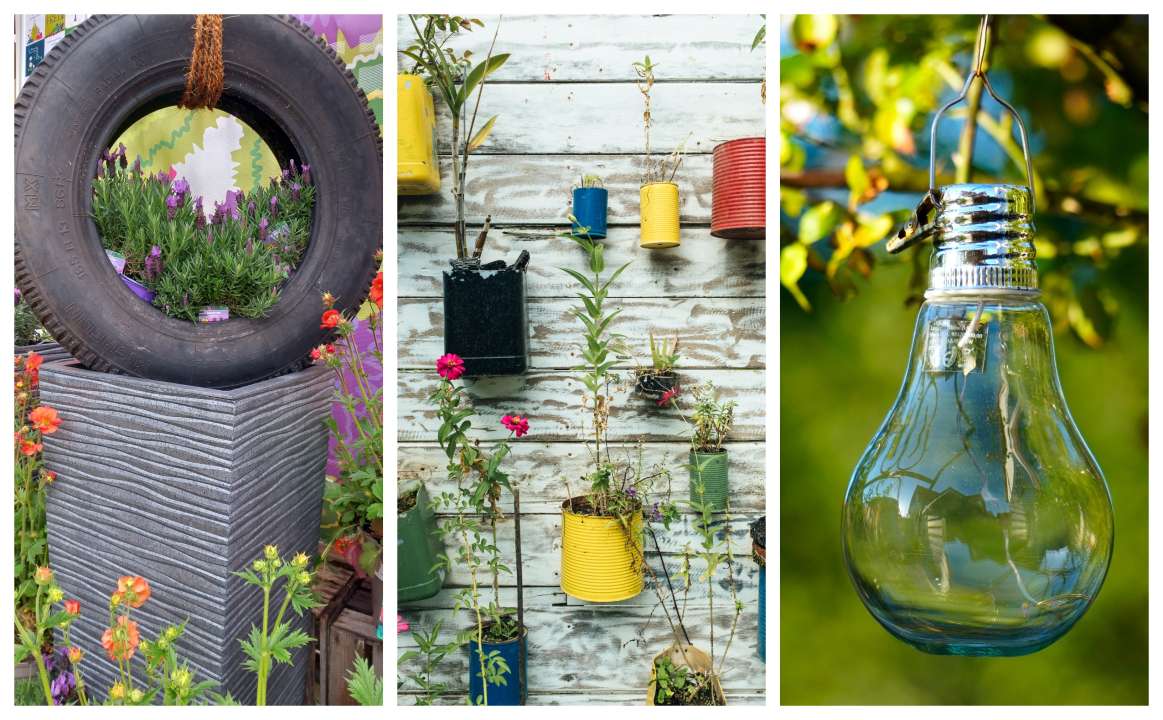 Make your own compost
There is nothing better than making your own compost. It saves you money on bagged compost, is naturally peat-free and you are helping the environment by reducing food waste. If you are worried about mess and space, look for a compact composter, like the The Hazelock 2-in-1 design, currently on display in our Eco House. Read more about how to make your own compost at home on our blog.
Protect forests
At Millbrook, 95% of our wooden garden products are certified by the Forest Stewardship Council (FSC), which means they meet the "gold standard" of ethical production. When you purchase FSC-labelled products, you're helping forests, and the people that rely on them, by supporting zero deforestation, animal conservation and fair wages.
If you are buying any new furniture or wooden items for your garden, go green and choose products with the FSC logo!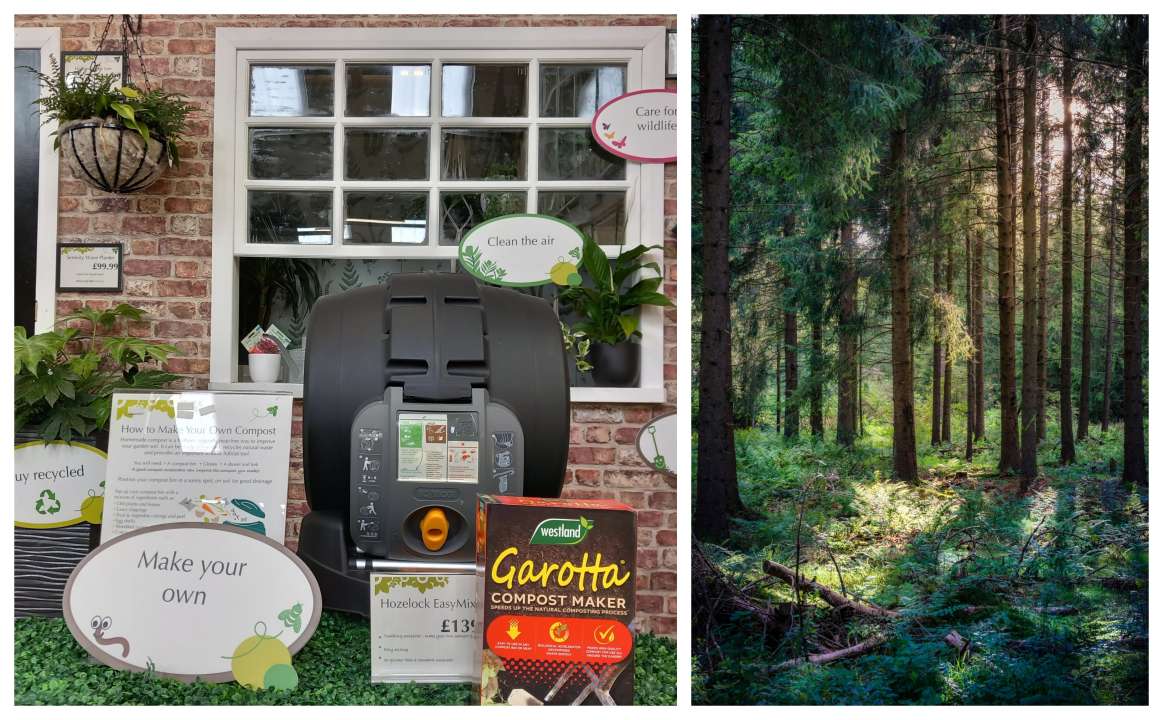 Care for wildlife
Millbrook is home to many nesting birds and visiting pollinators! There are lots of easy steps to making your own garden more wildlife friendly, such as putting your feet up and letting your grass grow. According to Plantlife, organisers of No Mow May, leaving your lawn long could provide up to 30 x more nectar sugar for hungry bees and other pollinators.
Feed the birds – put up a nesting box, or bird feeder.
Install an insect, butterfly or hedgehog house in a quiet, sheltered corner.
Plant hedges instead of fences. Green, living boundaries are perfect homes for all sorts of wildlife.
Choose which flowers and plants to attract pollinators. For example scented plants like honeysuckle, attract moths, which in turn attracts bats who love to feed on them!
Support local
We are passionate about supporting local and British suppliers here at Millbrook! There are so many benefits to buying local.
Low mileage and locally-grown products are better for the environment. Some imported flowers have up to 10 x the carbon footprint of home or UK grown plants!
You are supporting your local economy. Many of our plant and Food Hall suppliers are small, family-run businesses based in Kent, Sussex and Essex.
It's greener to invest in higher quality, locally-made products that last longer. Many of our British suppliers are working hard to be greener too – from using recycled packaging and renewable energy, to recycling their production waste.
Feeling inspired? Tag us in your greener garden photos @millbrookgardencentre #planetpositive. You can also sign up to The Millbrook family to receive our monthly Planet Positive email, with all the latest eco news and products from Millbrook.
Where to next?