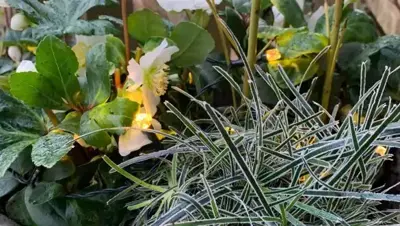 Yes, I have been very lax about writing a Millbrook blog for many months and over the Christmas break I had feedback from various members of my family that they missed it! Maybe they were being nice, but here goes my brand new 2020 blog and my resolution is to keep it up for the whole year.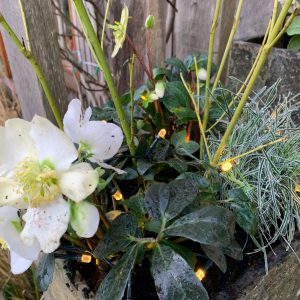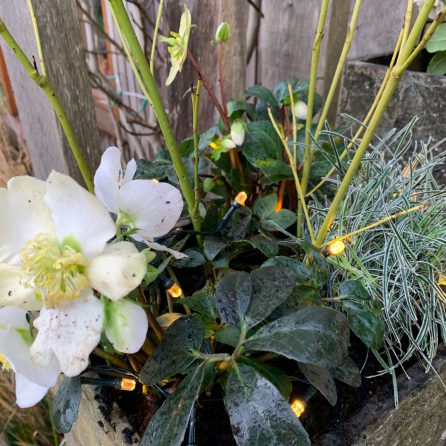 This Christmas, I have enjoyed all my decorations, but equally yesterday I enjoyed taking them down again and getting back to normality. One thing I haven't removed are the (I shall now call them) wintry decorations in my garden. In December, I planted up my outdoor pots with some lovely seasonal Winter plants and added a few lights for a bit of sparkle, plus to make sure I could still see the plants out of my window in the evening. I realised I didn't have to take the lights out and to be honest I could keep enjoying them until the evenings get lighter.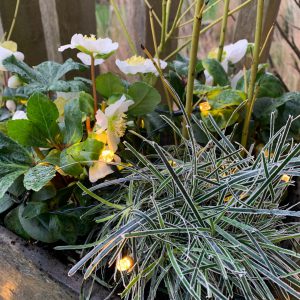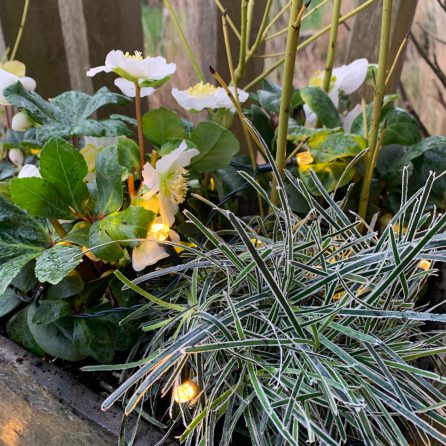 My favourite combination is the white Christmas rose, or Hellebore, and this one is called Christmas Carol and a lovely frosty-looking grass called Ficinia 'Ice Crystal' and it really does look like icy crystals. To finish off, I just cut some lime green cornus or dogwood stems from the garden and stuck them in the pots and then added a small set of lights tucked in amongst the leaves. I think simplicity is best and so I repeated the same arrangement in 3 pots together. Nearby I have got a box ball and I covered this in lights and I am also going to leave this in place for a few more weeks.
Outside my front door I used a lime green conifer, a skimmia with red berries, some red cyclamen and some ivy to finish off. With a few red curly sticks that I had left over from an arrangement a few years ago the pot was complete and I am hoping it will see me through to the early Spring when I can spruce it up with a bit more colour.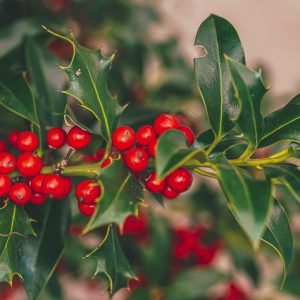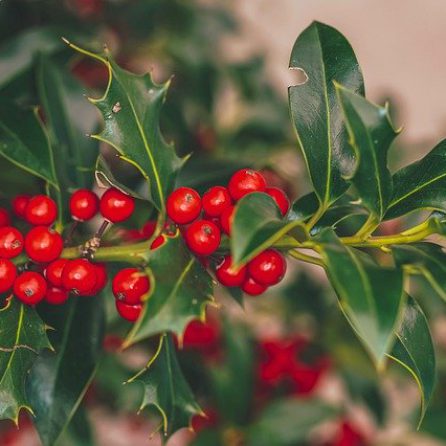 At this time of year we have to start ordering all our Christmas decorations for 2020 – yes, it's a scary thought, and as a business we are thinking about how we can make Christmas and all that goes with it more sustainable. It's a big topic and there are lots of challenges, but we have to start planning now to be able to make any difference for this year and beyond. One thing I do believe is that by incorporating plants and natural products both inside and outside we can make a tiny difference. Evidence suggests that practice of adorning the home with evergreen plants such as holly, ivy and mistletoe goes back as far as the ancient Egyptians and for the Pagans they offered hope during long Winter days that Spring and new life were on the way.
So let's be optimistic that Spring is on its way and meanwhile appreciate those lovely Winter plants – if you haven't planted up your pots for Winter, there is still time and lots of choice. Happy New Year and here's to a great gardening 2020.
Tammy