Last year, I tried to attract specific birds, namely Blue Tits & Robins, into the garden using their own specific bird seed blends (read my blog here).  The experiment was a success in that both birds came into the garden (although the Robin was almost impossible to photograph).
The trial taught me how rewarding feeding the birds can be. Reflecting back on this last year, Millbrook has seen its busiest year, which is fantastic, but at times with Covid, lockdowns & potential stock shortages, like many, it has had its stressful moments. Getting back to nature for me is a stress reliever.  I love being outdoors and going for walks as it brings me back down to earth. If I can bring a little bit of nature into the garden, it is only a good thing.
I must confess, during the busy Spring/Summer months I have not kept up with feeding the birds as much as I or the birds would like (sorry!). As soon as you stop feeding, the visits become less frequent. This makes sense – unless you give them a reason to come and stay into your garden, they will just pass through.
So, I am definitely up for another experiment with the promise that any gains made must be maintained after.
Aim
For this year, rather than trying to attract specific birds, I would like to attract a wider variety of birds into the garden and want to see if this can be done by using different feed types. For as long as I can remember, we have always sold different seed mixes as well as a numerous feed types, all with varying benefits.  They all claim that they attract a range of certain birds, but is this the case? This is what I would like to put to the test and find out which of these feeds is the best.
Background
After finishing the trial last year, I have only (sporadically) used a no-mess seed mix and occasional fat balls as a treat. The existing set-up (from last year) is the Tom Chambers Deluxe Feeding Station and the Heritage feeders. I am thoroughly impressed that these they have stood the test of time. With a good clean, they still look great and function like new.
I moved the station to the South-facing fence line as I removed the decking to make more room in the garden hopefully for some new garden furniture this year.
The main types of bird we normally get in the garden are: Sparrows, Blackbirds, Starlings, Wood Pigeons, and a pair of Collared Doves. During the trial last year, we saw Blue Tits, Great Tits, a rare glimpse of Long Tailed tits & Robins – these haven't been spotted for a while, so I would be very pleased if they came back. This is our baseline. If we can attract any other additional species, it would be fantastic.
Saturday, 5th February 2022
Trial Set-up: Laying on a Wild Bird Banquet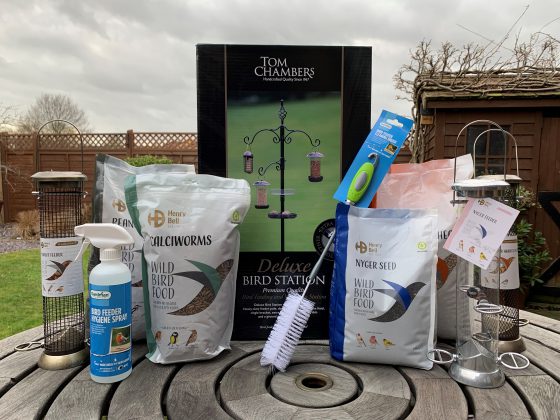 Stage One: Cleaning Existing Set-up & Station Locations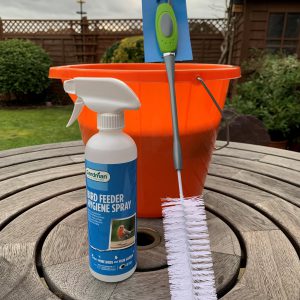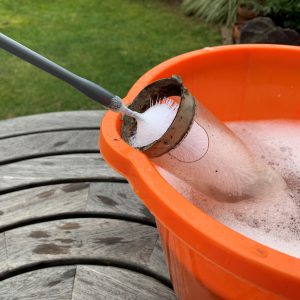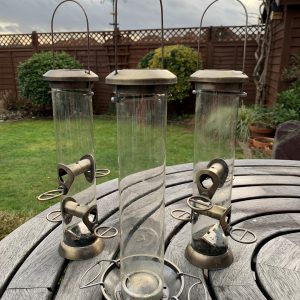 After reading Ben's blog, I am mindful of protecting the birds from disease.  The existing set-up needs to be cleaned and disinfected and done so regularly after that. Wearing gloves, I am using hot soapy water to get the worst off.  To get inside the feeders (at all the tricky bits) I am using the Gardman Bird Feeder Cleaning Brush (£3.99) and then a good spray and rinse with the Gardman Bird Feeder Hygiene Spray (£9.99).  I have done the same with the Feeding Station. I am impressed on how well last year's kit has come up and lasted.
It's my intention to have 2 feeding stations. At first, I put them together a fence panel apart so to take easy photos. These need to be further apart (now 2 panels, 12 feet) to space the feeders. If there is any sign of disease, then we will have no choice but a feeding lockdown ☹ – we must do all we can to avoid this.
Stage 2: The New Kit & Feeds
I wish to test a variety of feeds, specially chosen to bring in a different birds species:
Seed Mix (Base Feed)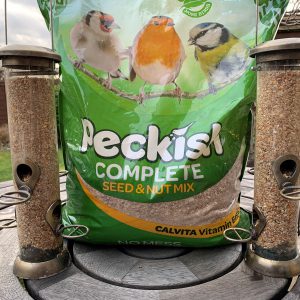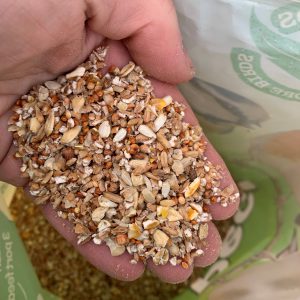 I wish to try Peckish Complete Seed & Nut Mix. It's a premium feed and has a great mix of 12 quality ingredients. The Garden Health website states it is "Proven to attract the UK's top 10 garden birds", so hopefully this is ideal for this trial. As this is the base feed, I wish to have 2 feeders of it, one on each station. I'm using the existing Heritage Seed Feeders from last year.
Fat Snax (Base Feed)
As I have used these before, I wish to continue to do so. Fat balls are a great Winter food.  They are, without question, our No1 best-selling feeding line.  There is a reason for this – the birds love them and they are easy and convenient to use. Simply pop a couple of them in the feeding tray on the stations.
Nyger Seed (New)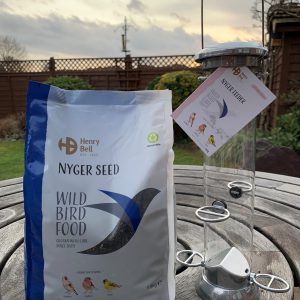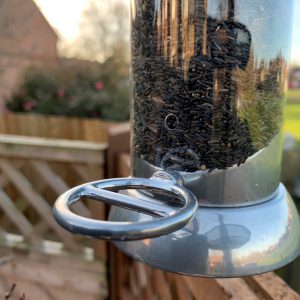 This is a small black seed, rich in fat with a high oil content. These are said to be the favourite of Goldfinches & Siskins (I would love to see these in the garden).  They are also popular with Tits, Greenfinches, House Sparrows, Nuthatches and Great Spotted Woodpeckers. The Nyger seed is very fine, so you need a specialised Nyger Seed Feeder with a very small aperture. I'm using the Sterling Nyger Seed Feeder.  This is positioned over a gravelled area as it is prone to seeding and growing.
Peanuts (New)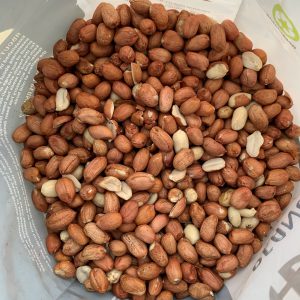 A long time, traditional wild bird feed. It has become less popular because of poor peanut harvests and continual price increases over the years. Peanuts can attract Robins, Dunnocks & Wrens when they are crushed, I have read they tend to hoard them. I'm using Henry Bell Peanuts (£18.99 for 4kg).  I'm surprised at the superb quality of these – they are whole, with little or no husks.  The Peanuts will be housed in a Henry Bell 'Mesh' Peanut Feeder – this is important, as you should never put out loose peanuts during the Spring and Summer as they can be a choking hazard to feeding chicks.
Sunflower Hearts (New)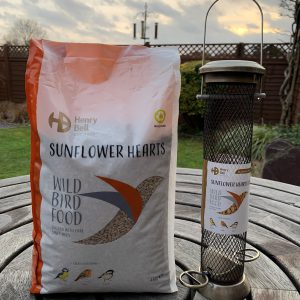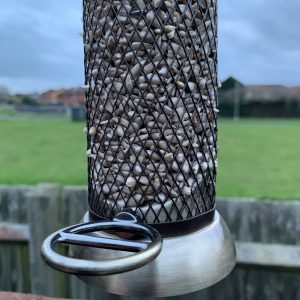 A no mess feed, rich in oil and protein. They are quick and easy for the birds to eat and are said to attract Tits, Greenfinches, Goldfinches, Blackbirds & House Sparrows. The feeder used is the Henry Bell Sunflower Heart Feeder. This has a finer mess which the hearts partially stick out of, so the birds can easily "grab and go".
Calciworms (New)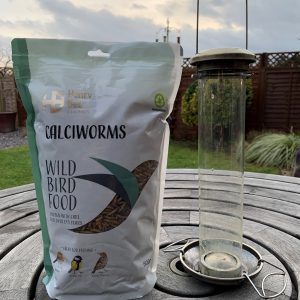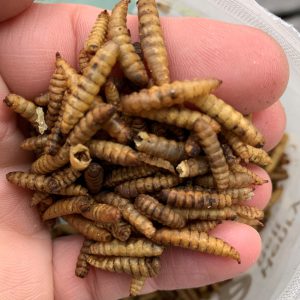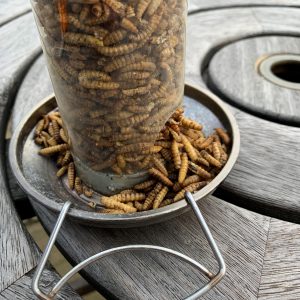 These were introduced mid-way through last year as an alternative to Mealworms when there was a shortage. Calciworms, the larvae of the Black Soldier Fly, are fed in the same way as you feed Mealworms. To me, they seem slightly larger than mealworms. They are very calcium rich and help to support the development of strong bones, ideal for when feeding the young. I know from last year these are a favourite, they are favoured by Robins, Blue Tits & Pied Wagtails. I'm using last year's Heritage Mealworm and Suet Bite Feeder.
Set-up Summary:
Station 1: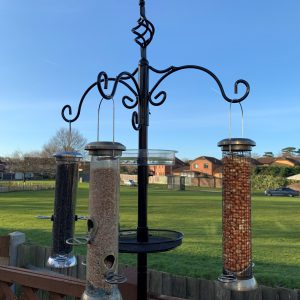 Existing Deluxe Feeding Station (Tom Chambers £69.99)
Feeder 1: Peckish Complete Seed & Nut Mix (12.75kg £19.99) & Heritage Seed Feeder (Henry Bell, £17.99).
Feeder 2: Nyger Seed (Henry Bell 1.8kg, £10.99) & Sterling Nyger Feeder (Henry Bell £14.99).
Feeder 3: Peanuts (Henry Bell 4kg £18.99) & Heritage Peanut Feeder (Henry Bell £17.99).
Fat Balls in feeding tray (Henry Bell x 50 Tub, £9.99 each, or Millbrook family special offer: 2 for £18
Station 2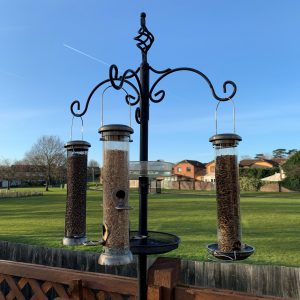 New Deluxe Feeding Station (Tom Chambers £69.99)
Feeder 4: 2nd Peckish Complete Seed & Nut Mix & Existing Heritage Seed Feeder.
Feeder 5: Sunflower Hearts (Henry Bell 4kg £17.99) & Heritage Sunflower Heart Feeder (Henry Bell £17.99)
Feeder 6: Calciworms (500g £9.99) & Heritage Mealworm & Suet Bite Feeder (Henry Bell £17.99)
Next Stage
Other than the day being a rather cold, overcast Saturday in February, I have thoroughly enjoyed cleaning and setting up the stations. I am on annual leave at home for a week. If the weather is good, I intend to spend some time in the garden and it will be a good opportunity to monitor the feeders. I have built a phone camera stand that I can move around the garden, hopefully to take some good photos/ video and to see with anticipation what birds come into the garden!
Keep an eye our for the next instalment coming soon!