Our Head Buyer and intrepid bird feed experimenter, Dan Hume, has been attempting to attract specific birds to his garden using feeds specifically designed to attract those birds. The trial began back in February – click here for how he set up his feeding stations and his goals.
Since then, Dan has kept a diary to document his garden visitors. Read all his adventures here and then read on below for his final verdict!
Week 4: 5th March – Extending the trial
It has been a month since the trial started and whilst the birds are loving the feeds and it is evident which their favourite is, so far we have not seen any new species. I think it needs more time. My original intention was to run the trial for 4-6 weeks, so we are going to extend the trial throughout the Spring to see if, with time, we get better results.
13th March – Robin finally snapped!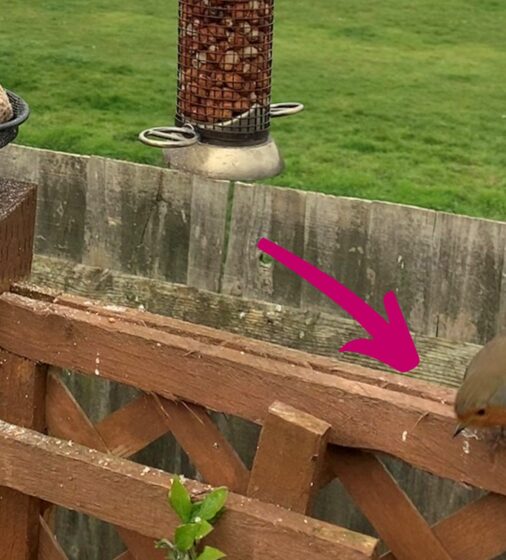 It has been very busy within the garden centres, finishing the set-up for Spring, so my wife, who works from home, has been monitoring the birds.  She can see the feeders from the study window and the cats act as an early warning system, they sit on the windowsill and "chatter", especially to the pigeons.
The Robin is starting to visit on a daily basis. It is very clever, as you do not see it on the feeding stations. It waits for other birds to knock food off onto the ground, then when the coast is completely clear, it dive-bombs to the ground, grabs the food and darts off just as quick.
With more luck than skill, I managed to get photo of the Robin diving to the ground.  Apologies, it is a poor photo, but to all those who have mocked my attempts so far, there you go, evidence!  I now have an even greater respect for wildlife photographers! They have the patience of a saint.
2nd April – Results of the feeds
It has now been 8 weeks since the trial and it is more than evident what the birds' favourite feeds are and those which have not gone down so well: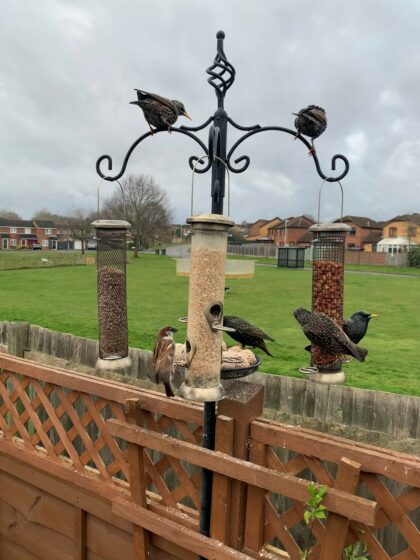 Peckish Complete: As a premium, all-round general seed mix, this is very good.  It contains 12 ingredients specifically chosen to attract a wide variety of birds. All the birds love it, especially the Blue Tits, as it has a high proportion of smaller seed (i.e. red millet). There is also hardly any mess as it contains no husks, which is essential when the stations are transcended upon en masse.
Sunflower hearts – Absolutely brilliant. As far as an additional feed to a general seed mix, it is by far the best. The Henry Bell Sunflower Heart Feeder is just the right mesh size to allow some of the hearts to stick out slightly, so it is easy for the birds to grab and go! Sunflower hearts are bursting with energy and are a highly nutritious food source rich in protein.
Peanuts – At the beginning, the birds were visiting the peanuts more than any other feeder. Over time, they migrated over to the sunflower hearts. The birds have to work to get at them. I enjoy watching the blue tits performing the aerial acrobatics whilst doing so, with their bright plumage, they are like agile circus performers.
Advice going forward.  Fill the feeder with smaller quantities, especially at first. Crush them slightly so it is easier for birds to take out of the feeder.
Calciworms – These are very popular, especially with the larger birds (Pigeons & Starlings) – suddenly the whole feeder will have gone. They are also very light. With the high winds and storms of late, they tend to be blown out of the feeder. Comparing them to mealworms, they are slightly larger and more rounded and do not knit together as well. Their nutritional value is better, calciworms contain 20 to 40 times more calcium than mealworms which importantly contributes to stronger bones and eggs. This is their main advantage over mealworms, and thus, growing in popularity.
My advice would be to mix them in with the general seed mix (layer them within the feeder) rather than a separate feeder.  This would stop them disappearing altogether and still give the smaller birds the opportunity for that protein boost.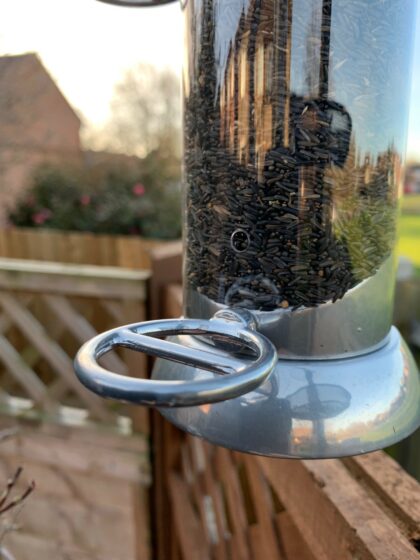 Nyger seed – I chose this feed as I have had reports that it is loved by Finches (Goldfinches especially, also Chaffinches, Greenfinches, Bullfinches & Siskins). It is highly nutritious and wonderfully rich in oils and protein. For a trial to try and bring in different species, this is ideal. The Nyger feeder has very small ports (only 5mm, see left) specifically for much smaller birds, preventing larger-beaked birds from getting a look-in.
Disappointingly, throughout the 8 weeks, the feed only went down by 1-2 inches and we rarely saw birds feeding from it (and none of the above finches).  I changed the feed a couple of times as I thought it might be damp and stale, but no improvement. To be honest, over the years, I cannot remember seeing many finches in or around my local area. In the future, I think I would only use nyger seed if I had seen them around first, then use it to attract them to stay. So many swear by it.
Summary of feeds
The best way to summarise the favourite feeds is to give my intentions for what I will be using going forward:
The Peckish Complete is the foundation of the feeding regime.  This premium seed mix has a great selection of ingredients to attract a wide variety of birds.
As a supplement to the seed mix, Sunflower Hearts. Bursting with energy, and a mainstay for when the birds are nesting (please see below).
Peanuts, to add variety and the birds need to work to get the feed, which is enjoyable to watch.
Calciworms added to the seed mix.  In a standalone feeder these go too quickly and are eaten by larger birds.
10th April – Proud new residents
It is with delight (and for me has made this whole trial worthwhile) to report that a pair of Blue Tits have nested in the nesting box which was put up at the end of the last trial. It's so great to have them, they work so hard, collecting moss for the nest and then constantly collecting food for the chicks which you can hear calling. To help, I have made sure the feeders are full (especially the sunflower hearts, which they are backwards and forwards to) and there is clean water as there has been little rain.  The cats have been kept well away!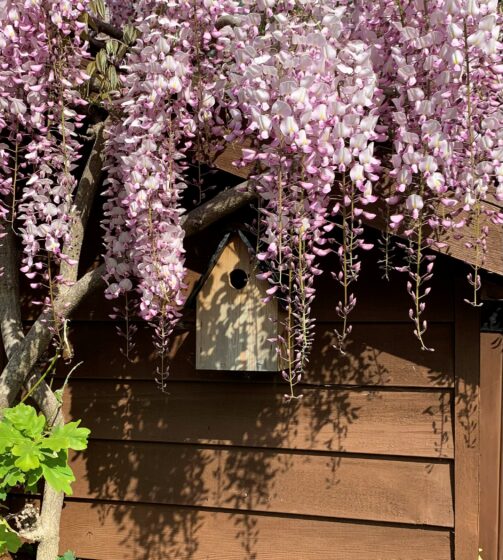 During May, the wisteria around the nesting box is looking beautiful, which has given them more protection. Blue Tits have one of the largest clutch sizes of all birds – up to 16 eggs! However, the majority of clutches contain 8-12 eggs.
In late May, early morning, before going to work, I notice 2 fledglings sitting on the fence; they still have some baby feathers.  The parents were flying back to the feeders continuing to feed them. It was quite emotive, you feel like you have helped them in some way and shared in their achievement. They stayed for a week or so and then sadly moved on. I hope they survive and come back and visit again.
Conclusion: 
So have the feeds used attracted new species of birds into the garden? No, not really, however, the existing species have definitely come into the garden a lot more and to my surprise and delight, some have taken up residency.
A couple of questions to ask and take into consideration. Are these new bird species within your local area to attract into your garden? Is it the correct time of year for that species? Like me you may struggle if they are not, the key is if you see a glimpse of them, then give them what they need to thrive in your garden and why would they not stay?
While the results of this experiment are a little disappointing, with time I am sure success would come. The true reward is that we have loved every minute of the experience, learnt a great deal and with our new feathered residents felt that little bit closer to nature and nature is closer to us.
Where to next?