After months of growing and tending their competition plots, the results of the Great Grow Your Own Challenge are in! We catch up with Horticulturist and RHS Lecturer, Caroline Halfpenny, who had the tricky task of judging and selecting our winner.
Joint Winners
Congratulations to our two winners – Jenny and Hazel. They have each won a beautiful set of garden tools and a £50 voucher to spend at Millbrook.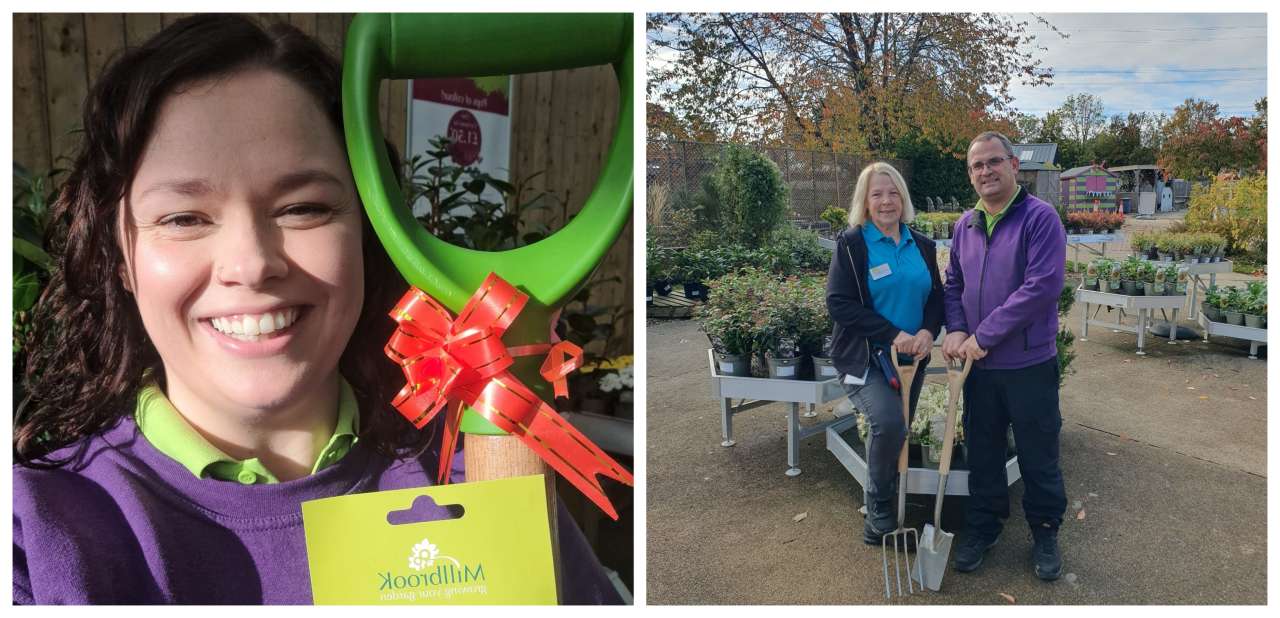 Oh my goodness that was difficult to judge, but based on the criteria we have a draw! I have gone through hundreds of photos of the most amazing produce. At one point Hazel was just ahead with her huge cucumber, but then Jenny pulled the curved cucumber and cherry tomato combo out of the bag.
For me Hazel won on innovation - going vertical was a stroke of genius - ticking the Growing Smiles, Diversity and Organic boxes. The recycling and huge mound approach was inspiring. Jenny hands down had the best quality and the most produce (I think she had extra help from the chickens and grandchildren). Next time I will need to taste all the produce - the cucamelons looked delicious!
Thank you for asking me to judge, it wasn't an easy task. Well done to all the competitors who took part.
'It feels amazing to have won! It was a great excuse to experiment and try a different approach it growing. I'm planning on using my voucher to buy a Christmas tree and I'm looking forward to digging my plot with my new fork and spade.' Hazel, Joint Winner
'I'm over the moon to have won the GYO Challenge. I've enjoyed every moment of it! I've had fun and learnt lots of things. I would definitely recommend it to everyone, they will be very surprised at what they can achieve in a small space.' Jenny, Joint Winner
6 Tips for a Planet Positive veg patch
Inspired by the Great Grow Your Own Challenge, here are Caroline's 6 top tips for creating your own planet positive patch:
Sow a diverse range of crops.

There were lots of excellent planet positive features in all of the 1 x 1m plots, including growing a range of crops to improve diversity and attract a range of wildlife. I loved Tammy's idea of edible flowers and 'mixing it up' to share crops with the birds and bees.

Stagger your planting.

Sowing a few seeds at staggered stages is great for crop picking. You don't get any gluts and therefore limit waste.

Choose Planet Positive products

.

Many excellent products were used, especially by Dan, such as organic manure, Strulch and compost.

Use a close loop approach

.

It was excellent to read about Jenny's closed loop approach where chicken manure was used to fertilise and mulch the soil by chickens happily living on site. This is the BEST way to feed your soil as there is no transport, no plastic and has the least negative impact on our precious environment.

Get composting

. Composting is another brilliant green strategy. Why remove that excellent resource from your garden? Hazel's vertical structure is an inspiring way of using the smallest space, and what a range of crops she's grown.

Inspire others

.

By far the best way to foster a planet positive approach is sharing your experiences with everyone, like our growers have done through this challenge - passing on your joy of gardening to everyone including your closest family.
Where to next?