Go to the ball, fly a kite, see the Northern Lights and believe in miracles this Christmas with Millbrook! Be inspired by our four unique decorating themes.
Millbrook is READY FOR CHRISTMAS. We can't wait for you to see.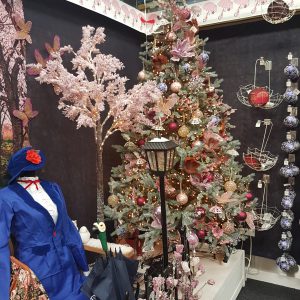 Throw open the park gates to reveal a practically perfect wonderland! Victorian lanterns, lit umbrellas and cherry trees glow, railings are entwined with frosty ivy and flitting fairies and butterflies catch the eye. A light dusting of snow highlights roses, hearts, pearls and poinsettias.
Key items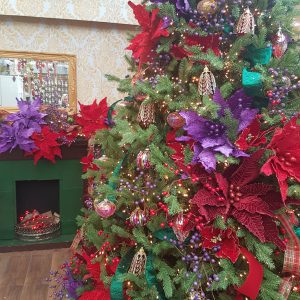 Do you believe? Bring traditional Christmas magic to your living room with a lit fireplace and extravagant garland to greet Santa. Awaken the senses with crackling logs, big red ribbons, poinsettias and purple berries and the smell of natural fir. Key colours are red, green, gold and purple with a twist of tartan and olive.
Key items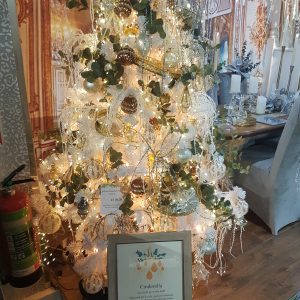 You shall go to the ball! Descend the lavish, garland-adorned staircase to the opulent dining room where a classically-decorated table awaits. Gold, silver, glass and crystal sparkle, floating candles bounce light from the water onto the metallics and chandelier. Plumes of lit grasses twinkle from gold vases.
Key items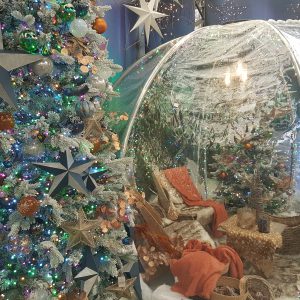 Look up as the wonder of the Northern Lights play above a Scandinavian snowscape. Huddle around the fire pit to keep out the chill. Natural elements and pale wood are dominant, so sprinkle the scene with fir cones, brush animals, birds and snowflakes. Embrace key colours of denim dark blue, petrol, amber and white.
Key items

For all our Christmas events, click here!