This Summer Millbrook Head Buyer Dan set himself a special Planet Positive challenge - to plant a hanging basket that's as good for the garden as it is for the enviroment. Read on for his top tips on planting a new basket and his pick of Millbrook eco products.
One of the many reasons I love working for Millbrook is the core value of reducing our impact on the environment. We're doing more and more great things in-store, from recycling plastic pots to producing our own solar energy. Sustainability is now the overriding factor in what we choose to sell. There are so many brilliant sustainable alternatives to use now and as a buyer I love trying to find them!
For many years I've enjoyed planting hanging baskets in my garden, but I've always used the same types of liners, compost and feeds not really thinking about their sustainability. This Summer was time for a change! I decided to set myself a challenge - to see if I can get the same results from my baskets (if not better) by using the most sustainable products we sell.
Plants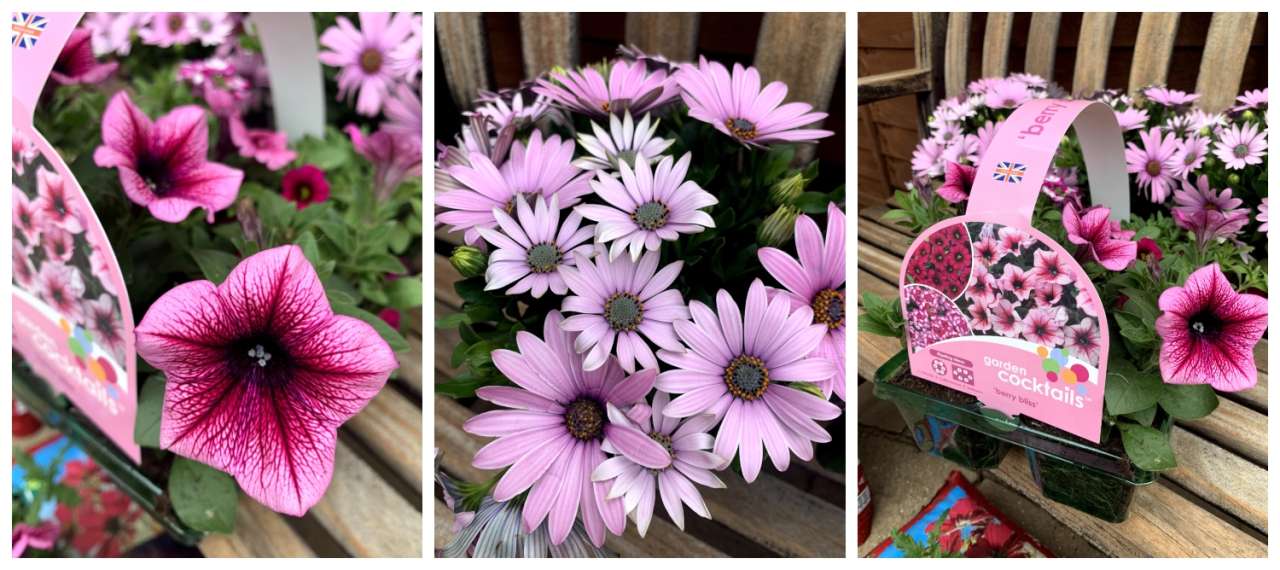 I'm a big fan of Parker's Garden Cocktail Jumbo Packs. They are so simple to use and the label even gives you a little planting plan. I've used the "Berry Bliss" colour combination as it goes with the colour theme in my garden. Using Millbrook's Thriller, Filler & Spiller guide, I have planted some central matching Osteospermums (Thrillers), to complement the packs Verbena (Filler) and Petunias and Calibrachoa (Spillers).
Parkers nurseries are based in Essex, and all their plants are grown in peat-reduced compost using 100% renewable energy generated onsite. Their plant trays are recyclable too!
Hanging Baskets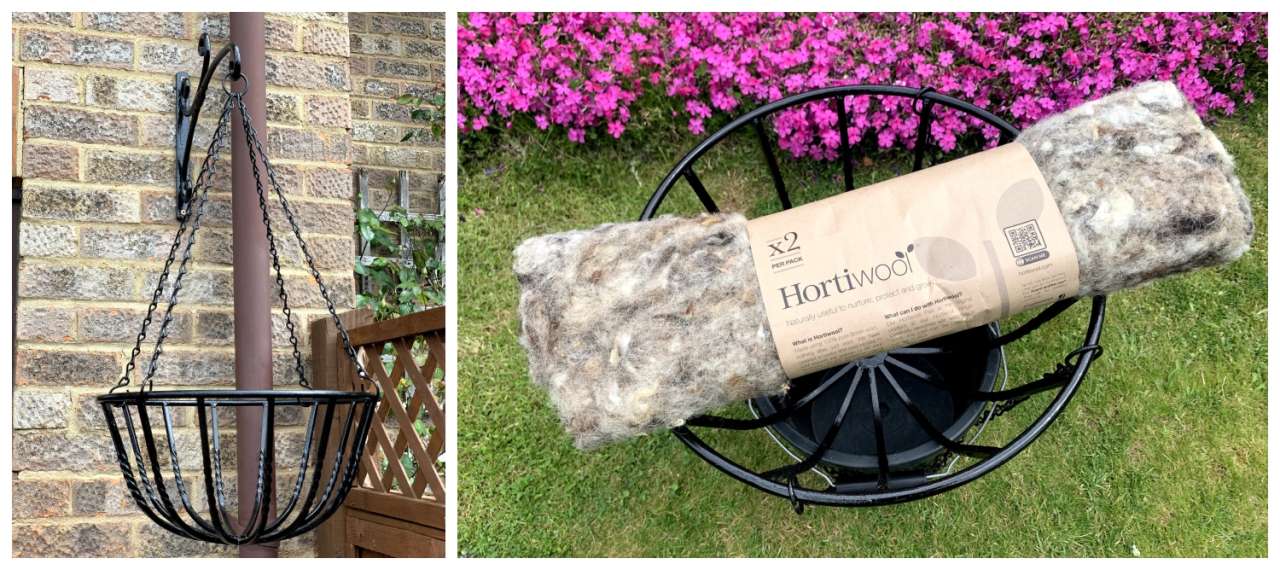 I've used the same baskets now for at least 8-10 years and they are still going strong. They are the Tom Chambers Hand Forged Hanging Baskets and brackets. For this trial I gave them a touch up with Hammerite smooth black paint, good as new.
Liners
I usually use convenient pre-formed Co-co liners, which are made from coir (coconut husks). Although this is a sustainable by-product, coir needs to be shipped so that adds to it's carbon footprint. So I'm trying a new British alternative - Hortiwool Hanging Basket Liners, which are organic and made from 100% pure British sheep wool.
For larger, deeper baskets like mine, you can overlap 2 pads. With the weight of the compost and plants I'm expecting the liners to expand, so I trimmed them once the baskets were planted.
Compost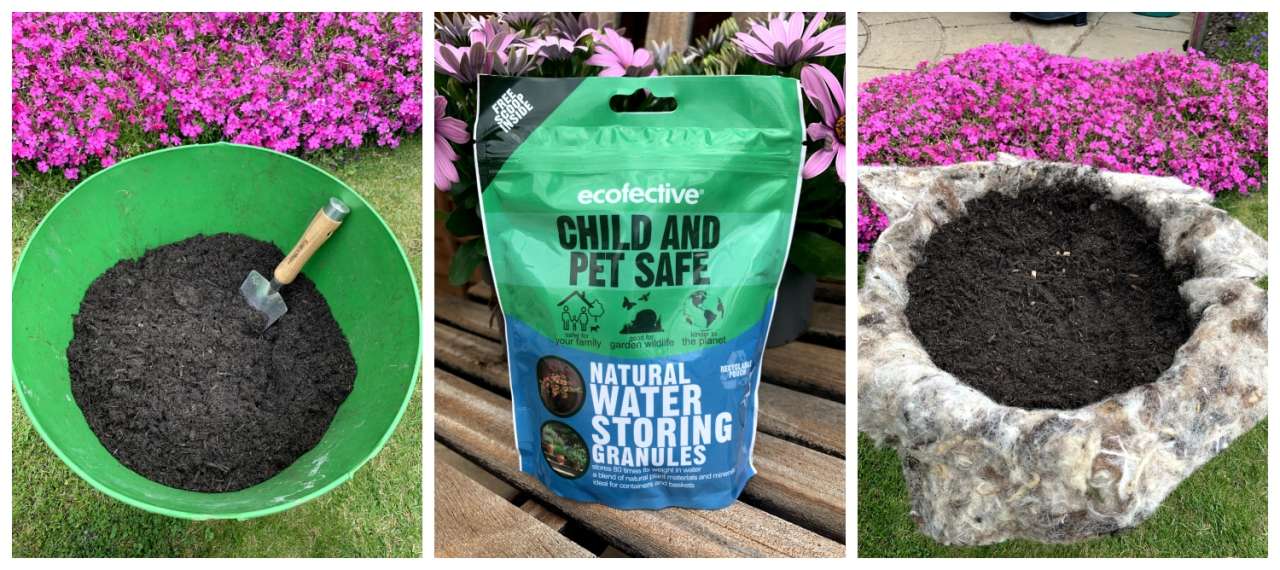 Last year was the first year I used peat-free compost in my baskets. Before then I had my concerns about the quality of peat-free, and the fact it dries out very quickly. I'm pleased to report the performance of peat-free composts has risen tremendously. This year I've opted for Westland New Horizon peat-free compost which is naturally organic as well. I put my compost in a mixing trug first, ready to add slow-release feed and water saving granules.
Water Saving Granules
To stop the hanging baskets drying out too quickly, I've opted for a more sustainable alternative to Aqua gel – Ecofective's Natural Water Storing Granules. These starch-based granules absorb over 80 times their own weight in water! They are very easy to use (2 scoops to every 4-5 litres of compost). Mix into your compost with a trowel, breaking up any big lumps in the process.
Feed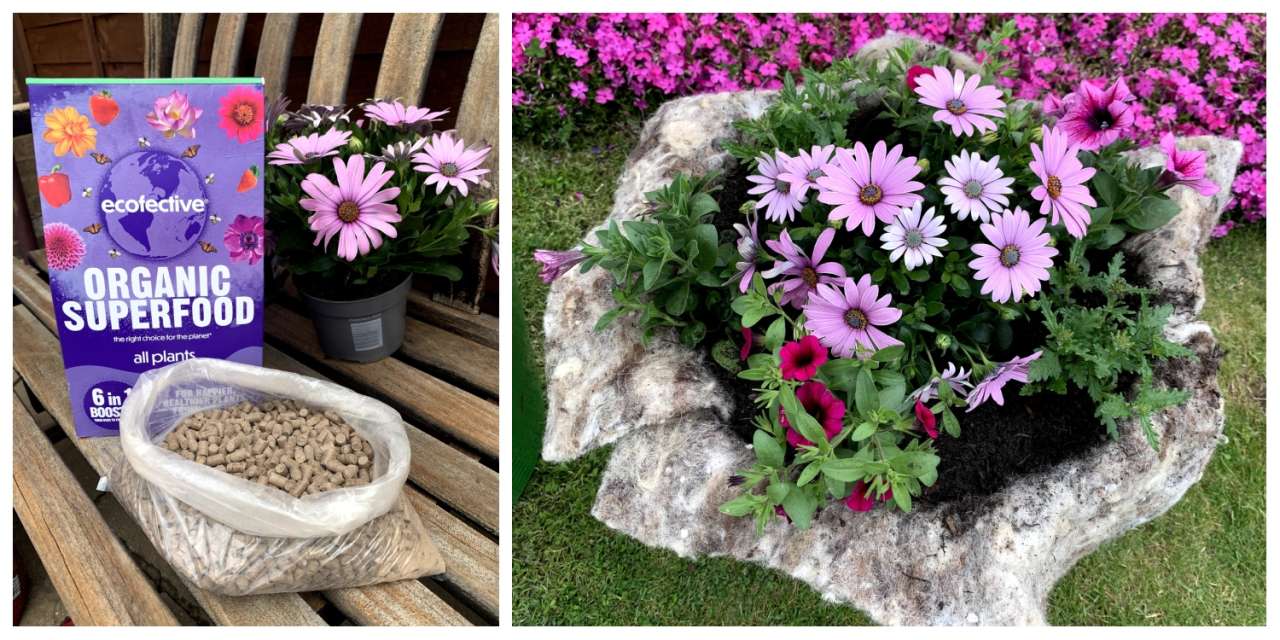 My go to for plant feed has always been Miracle-Gro premium. It's our No 1 best selling feed. For an even more organic option I'm giving Ecofective's Organic Slow-Release Superfood Pellets a go. New out this year they boast up to 2x bigger, brighter blooms! Again, really easy to use – add 2 tablespoons / 30ml for every 3 litres of compost.
Watering
With many areas suffering from hosepipe bans this Summer, I've been on a mission to reduce the amount of watering in my garden. I've installed two large linked waterbutts which fill via the downpipe from my garage. Depending on the weather, the water I collect will last most of the Summer. It takes longer to water using a watering can, but I enjoy this time – a few minutes peace at the end of a busy day!
I've really enjoyed using more sustainable products in my baskets this year, and using greener alternatives does make you feel better. Hopefully with some better weather this year's baskets will be just as stunning as last year's!