I was lucky enough to visit The Chelsea Flower show on Monday evening at the Gala Preview, getting a sneaky peek into the latest horticultural trends and stunning gardens before the public opening. With only 2 hours to get around the show from my wheelchair, my top Chelsea tips and trends are:
My favourite garden
Had to be Chris Beardshaw's 'A life worth living' garden for Myeloma UK. I absolutely loved the colour palette of smoky blues, burnt orange, white and bronze planted in blocks of colour and texture that contrasted and complimented each other.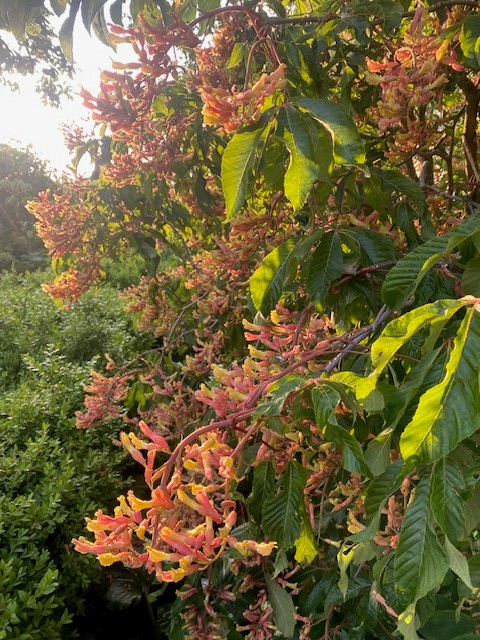 While using many familiar plants such as Iris, Foxgloves, Verbascum, Zantedeshia and Acanthus, what really caught my eye were the more unusual varieties such as this stunning member of the horse chestnut family - Aesculus pavia (pictured left), a large shrub that grows to only 5m and has beautiful bronze tinged with red flowers.
It was certainly a show-stopper and one we will be trying to get into stock soon. I was delighted to see that the garden was awarded a gold medal.



Colour trends

It's always interesting how a trend carries through the show, with many gardens using the same colour palette. This year, the overriding colours were muted and soft, lots of pastel orange, bronze, peach, silver, white and blue. Many of the walls and backdrops were soft sand coloured which really complimented the plants and set off the structural silver foliage in this garden.
Go wild

Letting your garden go wild, embracing weeds, longer lawns and less formality. Four of the show gardens had weeds amongst the planting – who can believe that dandelions and buttercups have been allowed in a Chelsea show garden?! The trend is to blur the boundaries between planting, wild flowers and weeds. Letting the edges of the borders bleed into gravel or lawn. Paths are made of gravel, crushed concrete and recycled materials and the lines and designs are soft and informal.
Plant of the moment

Has to be the bearded Iris. I love them for their variety of beautiful colours and stately form. Almost every garden had a good showing of Iris in shades of purple, orange, chocolate brown and apricot. Perfect for a dry, sunny spot. Enjoy the beautiful flowers while they last, while the silver grey foliage is great all summer long.
Balconies

This year, there was a real focus on balcony gardens, giving inspiration for even the tiniest of spaces. There were some great ideas of using pots and planters and making the most of the walls. Even squeezing in a sitting / dining area for people to enjoy fresh air and plants.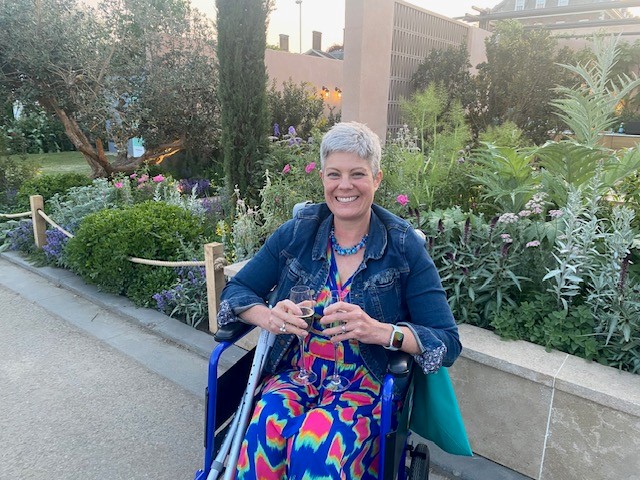 By Tammy Woodhouse, Managing Director, Millbrook Garden Company.
Where to next?
Find out about The Millbrook Eco House