The plants are beginning to grow, so it's time to get outside and prepare the garden for Spring.
It's the perfect time to lift and divide, or plant, herbaceous perennials
On dry days mow your lawn, using a high setting
Weeds will be beginning to grow and fighting for space amongst your plants. Keep them under control by hoeing regularly.
Even though it's early, watch out for slugs and snails – they love new shoots!
March Plant Collection
We have selected the best of the season flowering in Spring to early Summer, perfect to plant together.
Magnolia
Prized for fabulous forms, colours and glossy leaves, producing showy, fragrant flowers

Rhododendron
A brilliant plant for containers, offering a spectacular display of colourful blooms
Azalea
Ideal for pots or smaller gardens, producing abundant flowers that cover the entire shrub
Also looking good in the garden in March…
Lavender – a fabulous evergreen shrub that is a wonderful edition to every garden!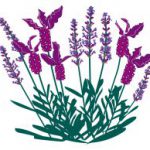 Lavender flowers are produced from mid-Summer through to Autumn and will attract all manner of wildlife
Spikes of colourful fragrant flowers that range in colour from blue, purple, pink, white and lilac
Plant in well-drained, sunny positions
Prune new plants to encourage strong bushy growth
Choose different varieties for hedging, edging, or growing in containers
Aubretia – the perfect plant for containers, flower beds and rockeries

Choose from a wide range of colours with spilling flowers and rough, hairy leaves
After flowering, a light clipping with a pair of garden shears will encourage new shoots and slow down ageing
Plant them in full sun and well-drained soil and they will romp away to delight you at the start of every season
In two or three years they will grow into ground-hugging mats that are up to 2ft across
Camellia – One of the most popular Winter and Spring flowering, evergreen shrubs.
Produces large, rose-like flowers in a wide range of colours when little else is flowering
Needs and ericaceous (acidic) soil to thrive
Grows very well in pots and is method if your garden soil isn't suited to camellias
Produces its flower buds in the previous Autumn, so it is essential plants do not dry out as this leads to the buds dropping
Protect overwintering buds from excessive frost
Prune in late Spring after flowering to ensure no future buds are pruned off by mistake